Dubey & Schaldenbrand was founded in 1946 by the inventors of 'the split second chronograph', Georges Dubey and René Schaldenbrand. Its headquarters are located in La Chaux-de-Fonds, Switzerland.
Patented in many countries, the revolutionary idea of the split-second chronograph was their first creation in 1946. Mr. Dubey made some modifications to the 'Landeron' base movement to bring to the market an affordable split-second chronograph. Part of the complication was hidden under the dial but the split-second hand didn't have enough power to support it. Adding a useful spiral between the two chronograph hands provided the power it needed.
Inspired by Art-Deco, the brand was built with avant-garde ideas that brought evolution to the watch industry with special mechanical movements. Dubey & Schaldenbrand continues and thrives on evolution and design (mainly with its historical tonneau shape) whilst respecting the traditional watchmaking skills of our ancestors. We are developing watches with our DNA using our tools, and special materials and achieving groundbreaking innovations.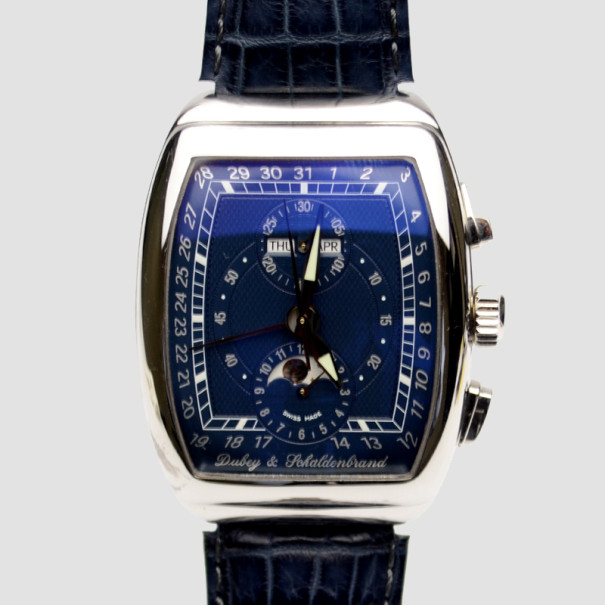 Dubey & Schaldenbrand proudly produces most of the needed components at its manufacture. We only produce limited quantities of timepieces, limited editions, and unique pieces with outstanding craftsmanship. Special attention to details and design, both traditional and modern, without compromising on quality.
By respect for inheritance established by Georges Dubey and René Schaldenbrand, Dubey & Schaldenbrand only propose automatic or mechanical movements in their timepieces.
In the tradition of watchmaking, we sometimes use vintage movements. This gives to these Dubey & Schaldenbrand timepieces a big value for collectors.
The hand engraving is done by local craftsmen and always includes the blazon of the village of Les-Ponts-de-Martel; a watchmaker's hammer and a bridge.